Order Online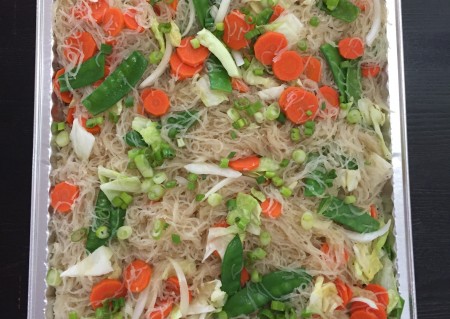 Pancit Bihon Noodle (Catering)
Pan sauteed noodles with fresh mixed vegetables with a choice of chicken, tofu or vegetables only..
---
Half Tray (Feeds 10 People)
$65.00
Full Tray (Feeds 25 People)
$155.00
0 customers Pancit Bihon Noodle (Catering)! Leave a review to let us know what you think.
You may also like
See those other items from Catering Menu.
---
Housemade marinated sweet spiced chicken

Half Tray (Feeds 10 People)

$95.00

Full Tray (Feeds 25 People)

$225.00

Pan Sauteed beef steak with onions and bell peppers

Half Tray (Feeds 10 People)

$155.00

Full Tray (Feeds 25 People)

$335.00

Half Tray (Feeds 10 People)

$30.00

Full Tray (Feeds 25 People)

$75.00